As a woodworker, I've used countless brands of screws over the years. So far, SPAX and GRK are my favorites because of their quality and durability. However, one friend asked me which of the two brands is better. To answer the question, I wrote this SPAX vs GRK face-off article, so you, too, will have an idea of what to pick.
Overview of the SPAX brand
SPAX is a popular brand of engineered fasteners. They make their proprietary PowerLags and construction screws they claim to have better speed, strength, and versatility than other options. Based on my experience, SPAX has every type of fastener for all kinds of jobs.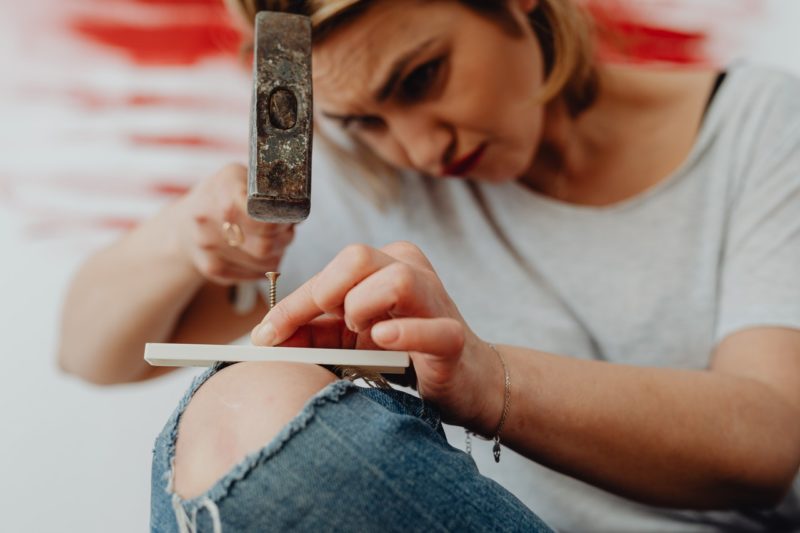 Moreover, SPAX is a brand under Altenloh, Brinck, & Co, which is based in Germany. SPAX was first introduced to Europe in 1967 as a multi-material construction fastener manufacturer.
And in 1997, SPAX infiltrated the U.S. market with their PowerLag and construction screws. Ever since 2006, all SPAX products in North America are produced in their Ohio complex.
Overall, SPAX has a small product line, but it remains one of the most durable options in the market. I'm pretty sure every woodworker in North America has used a few of their fasteners before.
Overview of the GRK brand
GRK had a bumpy history before it landed on supplies shelves. In 1983, Swiss screwmaker Uli Walther was commissioned by his company Reisser to manage its North American operations. So in 1990, Walther moved his family to Ontario, Canada, for his new role.
However, his deal with Reisser experienced a fallout. So by 1993, he started GRK with local investors and a Taiwan-based production. However, in 2011, Walther decided to sell GRK to Illinois Tool Works (ITW), where the production became solely based in Taiwan, and the Ontario plant was shuttered.
Despite that, Walther launched a new fastener line called U2 Fasteners in 2016. It's not yet widely available, but from what I heard, their screws can give GRK a run for its money.
Comparison of SPAX and GRK
To help you decide which screws are better, here's a quick comparison of GRK and SPAX:
✔️Product portfolio
When it comes to product portfolios, GRK has the upper hand. GRK offers a variety of screws engineered for specific materials and purposes. But while SPAX has fewer options to offer, they bank on the quality of their fasteners.
Right now, SPAX has four main screw products: PowerLags, Special Purpose Screws, Multi-Purpose Construction Screws, and Stainless Steel Construction Screws.
Personally, I use their PowerLags for Log Homes since it can endure tough weather. I also like its Deep T-Star drive that allows easy back-out in case the head gets countersunk.
On the other hand, GRK is my go-to when it comes to variety. They categorize their fasteners into three types: Specialty, Structural, and Finish.
For my projects, I often use their RSS Rugged Structural Screw. It's a durable choice for decking, LVL fastening, and heavy-duty framing. Many contractors I've talked to also prefer this GRK screw for remodeling purposes.
✔️Cost comparison
The cost of screws and other fasteners depends on their length, coating, material, head type, and application. Aside from that, screws come in varying counts per box; sometimes, it's sold by the pound.
The last time I checked, there was a minimal price discrepancy between SPAX and GRK. In my experience, the difference is just between $1 and $3 for similar screws products of the two brands.
It's important to note that the price will also depend on where you bought it. For example, a 50-pack SPAX lag screw can be a dollar cheaper in Home Depot than in Lowes or vice versa.
✔️Warranty coverage
Both SPAX and GRK have a limited lifetime warranty for all the fasteners they sell. Also, both of these guarantees don't cover defects due to poor workmanship.
Specifically, GRK's PHEINOX and Climatek-coated screws have a lifetime guarantee against rusting and staining.
Take note that for you to avail of these warranties, you have to present the defective products. You also need to provide a purchase receipt and the project photos to which the screws failed.
✔️Performance and quality
Both SPAX and GRK screws are made with hardened steel. As leaders in the fastener industry, I can vouch for the durability of these brands for almost every woodworking project.
In terms of performance, I love the self-countersinking of GRK screws. This allows woodworkers to drill it through hardwoods with extreme precision.
On the other hand, SPAX has its patented thread serrations which require less torque for driving. This prevents soft logs from cracking while being fastened.
Moreover, both of these brands have their proprietary coatings and head designs that can endure harsh weather.
For example, SPAX screws are available in yellow zinc and zinc coating options for interior use. For exterior applications, they offer an HCR coating that also works for treated lumber.
GRK, on the other hand, has its proprietary Climatek coating that also works for treated lumber. It's non-corrosive, even with ground contact.
Overall, I think it's a tie between GRK and SPAX in terms of performance. Both are easy to drive and have strategic thread designs to prevent loose results.
Which one is better for woodworking?
To be honest, both works for me. However, if you want the most durable pick, I recommend going for GRK screws than SPAX lags. In the end, it boils down to your application and what you want to achieve with your project.
Nevertheless, SPAX screws also give a firm hold. But in my experience, it requires a slightly higher torque when driving compared to GRK. Anyway, this is only the case with hardwood materials.
Can you hammer in a screw?
It's possible to hammer a screw if you don't have a drill handy. However, this won't always provide favorable results.
One thing that could happen here is that screw treat will rip a large hole in the material. The result is a loose grip, and the screw will pop out of the material. Also, there would be splinters all over, and the finish won't be smooth.
To prevent this, I recommend creating a pilot hole using a nail smaller than the screw. You should do this even if you're hammering SPAX screws that don't require pre-drilled holes.
However, you should know that hammering small screws can damage its head. You should proceed at your own risk.
Is it okay to use screws on joist hangers?
Technically, you can use screws to install joist hangers, but only those made for such purposes. This is because typical screws won't hold up well and don't have the shank needed to support the weight of the material.
Take note that you should never use drywall screws or deck screws for joist hangers. These aren't rated for the heavy load of joists and could lead to accidents if used.
You're better off using 10d to 16d nails for joist hangers. This will have a better grip and fastening effect, especially when used on beams, headers, and wall ledges.
Why do some screws not have threads at the top?
The unthreaded part at the top of the screw's shank is made for a very important purpose. It allows heat dispersion as the thread heats up while being driven into the wood. Since the upper part isn't threaded, it will prevent excessive heat buildup, so the screw won't bend or snap.
Another purpose of the unthreaded shank is to create compression between the threads and the head. This will provide added grip, especially when joining two wood pieces. Also, the unthreaded part will make removal much easier without compromising grip.
Conclusion
I hope that this SPAX vs GRK comparison helps you find the right choice for your project. Both brands are great options, and they offer a variety of fasteners to suit your project. What matters most is that you use the screws properly for topnotch hold and performance.
Are you planning to use these screws on wood fillers? Read this post first!